Armfield Angling Newsletter - March 2015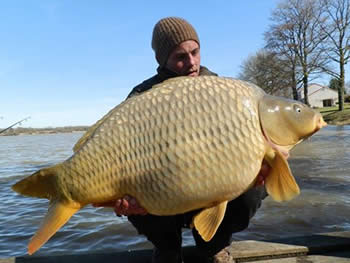 Welcome to the March edition of the Armfield Angling newsletter.
With temperatures starting to slowly climb here in France the fish have begun to wake from their winter slumber.
At Villedon, rising temperatures earlier in the week saw fish venturing into the shallower waters where on Tuesday there were reports of 15 fish from swim 15.
We have a busy year ahead on Villedon but with over 1200 pristine fish that move with the winds and 40 swims in total (a mix of singles, triples and doubles) we still have good swims remaining for 2015 and bookings are also being taken for 2016.
Many of the UK's top anglers have already visited the venue and it is testament to the quality of the fish and facilities that they, along with our other anglers so far have chosen to re-book for 2015 and 2016. Some have grouped together for 2016 and chosen a lake exclusive option.
This package is proving popular and offers the whole 100 acre lake plus the accommodation (gite and cabin)for a maximum of 35 anglers on a Sat to Sat basis. Boats are also available on arrival for the exclusive week.
This option gives anglers the flexibility to move around the lake and fish/test different swims many of which have been through a winter maintenance program this past winter. Bookings of this nature for 2016 give the group time to budget which is another factor to always be considered when booking trips. Please contact Carmen on
info@armfieldangling.com
for available whole weeks.
We are continuing to take bookings for Le Bois de l'etang with some groups of 4 anglers max choosing 2016 as well as 2015 to ensure they get their desired exclusive week, please don't delay in booking and trying out this new venue, we assure our anglers and guests of a fantastic week and know you'll want to return.
We have launched a seperate drop down tab on our website homepage for this venue to enable easier access to pictures and information plus details, prices and booking sheets, please take a look.
We look forward to hearing from you all soon
Tight Lines
Paul and Carmen
Armfield Angling Limited